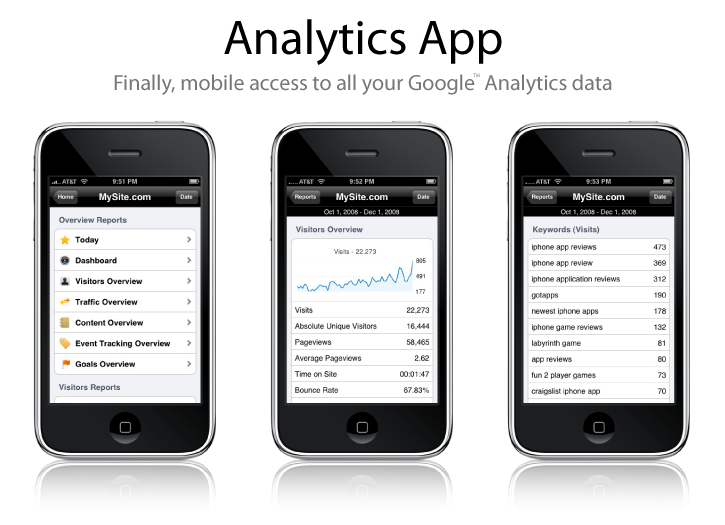 Download Analytics App for iPhone -     Download Analytics HD for iPad
As Seen in Time, Fortune, WSJ, NY Times, USA Today, and Newsweek!
Benefits
Instant, Mobile Access to Google Analytics
Finally you can get to all of your reports and data with Analytics App for the iPhone and iPod Touch. Whether you're on the road, in a meeting, or sitting on the throne, Analytics App gives you quick and easy access to your analytics data.
Easier than checking with your browser
The Analytics App interface makes it easier than even using your computer's browser to check and analyze your site stats! You'll find yourself checking your stats with Analytics App not only on the go, but at your desk as well!
Be More Productive
You need at least one productive app on your iPhone, right? Analytics App can make any spare moment a productive moment. How many leads did you get today? What keywords were hot this month? What content brought in the most conversions?
Download now or read about its features…
Features

Quick Overview Reports for at-a-glance data
More Detailed Reports for deeper analysis
Supports Multiple Accounts, Multiple Sites, change login anytime
Change date range, chart granularity by Day/Week/Month
Ecommerce, Events and All 20 Goal Reports

Over 55 Available Reports!

Overview Reports

Today (Dashboard report of Today)
Dashboard
Visitors Overview
Traffic Overview
Content Overview
Event Tracking Overview
Goals Overview

Visitors Reports

Visitor Loyalty
Visitor Recency
Length of Visit
Depth of Visit
Browsers and OS
Languages

Traffic Reports

All Traffic Sources
Referring Sites
Search Engines
Keywords
Non-Paid Keywords
Paid Keywords
Adwords Campaigns
Campaigns
Ad Versions

Content Reports

Top Content
Content by Title
Top Landing Pages
Top Exit Pages

Event Tracking Reports

Event Categories
Event Actions
Event Labels

Download now or read some reviews…
Reviews
"…this application is a keeper. Up-to-date stats from all of your sites, available nearly anywhere, makes our geeky little hearts go pitter-pat." - TUAW.com (The Unofficial Apple Weblog)
"Great! Good pick, I just downloaded it and installed it!" -Leo Laporte (@leolaporte) during podcast MacBreak Weekly
"This is a great app for people like me." - Barry Schwartz, Search Engine guru (demo video)
"Not only is this an app I use regularly but it's an app on the first page of my iphone :)" - Michael Gray AKA graywolf, Internet Marketing guru
"…the most functional analytics viewer on the App Store." - Omio.com
"Beautifully designed, simple and easy to use and most definitely very reasonably priced at $5.99…" - Filip at creativeapplications.net
"Analytics App takes the crown and glory … with ease of use, design and features." - Zee at thenextweb.com
"Bypass the others and go straight for Analytics App. It's the priciest one I've tried at $5.99, but its worth every penny." - OnlineMarketingPerformance.com
"Now that Google Analytics is available for the iPhone, that addiction is only going to get worse." - Glenn at om4.com.au
"It is rare when an app comes along that is a must have; a keeper for me." - iphonecommunity.org
"Another wonderful and must-have app for bloggers" - Emily at textually.org
"Woohoo! Now I'll finally be able to obsessively check my traffic stats from the palm of my hand." - Guillermo Esteves
"… jam packed Google Analytics app for the iPhone … first ive seen or read of thats brilliant." - Scott Purdie
"…the application basically pays for itself the more often you use it to analyse your website's performance and it simply gets the job done effectively." - OneMoreTap.com
"Perfect. It's simply better than I ever thought it could be." - tsmango in iTunes
"Love this app; totally addicting, very nicely done, great view of my site data." - MediaBlogger in iTunes
"Amazing!…it is all I could have hoped for in a mobile analytics app. Thank you!!!" - Aarost in iTunes
"Absolutely Sublime! This is a 'must-have' for anyone running websites with GA. I can't believe how well it works!" - BUXjr in iTunes
"Very Useful. Well priced and very handy app." - ckorhonen in iTunes
"Awesome. Surpassed my expectations. I've been waiting for a quality analytics app and this is it." - nonameplayer in iTunes
"Well Done. Well worth the $$. If you currently use google analytics this is a must have." - Developer-one77 in iTunes
"Works Perfectly, Everything I've Been Waiting For. Finally an analytics app that has all the views and configurations I've been waiting for." - touch_pro in iTunes
"Can do nearly everything I do on my desktop." - stevenhaddox in iTunes
"By far the best analytics app out to date." - Fokussed1 in iTunes
"At BookLookr.com we regularly use the analytics app to keep track of
what books our visitors are searching for. If you haven't purchased the analytics app, go for it, you'll love it, we definitely do! Keep up the great work guys." - Andrew, CEO BookLookr.com
"Fantastic. This app is simply amazing. I have over 160 Google Analytics accounts all with multiple profiles. This app has saved me time and made me a hero to my clients and to my co-workers (boss)." - Chewiezx2 in iTunes
Reports

With 55 reports and a helpful Dashboard overview, Analytics App gives you access to everything you need from your Google Analytics data. Overview reports make it quick and easy to get the big picture, detailed reports let you see up to 100 results.

Charts

Integrated charts let you visually see your data within the date range you are analyzing. Multiple metrics have associated charts, just tap on the metric if there is a chart in the same table!

Detailed Reports

Detailed reports like the Keywords report (also splits out Paid and Non-Paid Keywords) list up to 100 rows of data, letting you dig deep into your data.

Multiple Sites, Accounts

Whether you just have one site or 50, Analytics App loads all your sites and accounts from Google Analytics. If you have multiple logins, just login as a different user when needed.

Privacy

Your privacy is important, so Analytics App only stores your Google Analytics login credentials on your device and only transmits them directly to Google to get your data.

Any Date Range

Select any date range easily from the report list or from a report itself, and the report is updated with the new date range.

Another Example Report

Had space for one more screenshot, but seriously you should just buy it, it rocks.
Analytics App is available on the iPhone AppStore for only $5.99. Your purchase helps us to improve Analytics App and add new features!