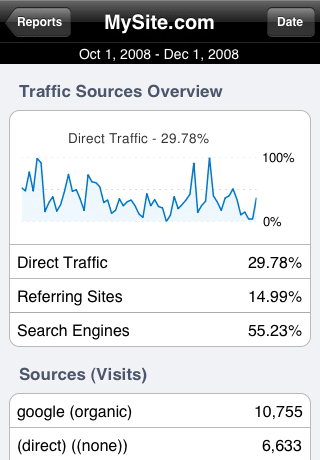 We are very excited to announce the debut of Analytics App to the iPhone App Store! Analytics App is a fully featured Google Analytics iPhone App giving you access to all your sites, accounts, reports, and data! With 29 reports and unlimited custom reports you create in Google Analytics, you'll find yourself spending more time with your Analytics data!
The Analytics App interface makes it easier than even using your computer's browser to check and analyze your site stats! You'll find yourself checking your stats with Analytics App not only on the go, but at your desk as well!
Analytics App includes 29 reports in categories including Overview Reports, Visitors Reports, Traffic Reports, Content Reports, Event Tracking Reports, and Custom Reports!
Category: Analytics App